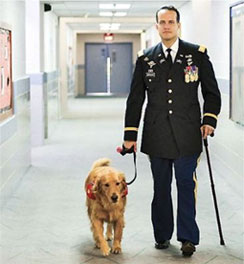 Former Captain Luis Carlos Montalvan and his trained service dog Tuesday.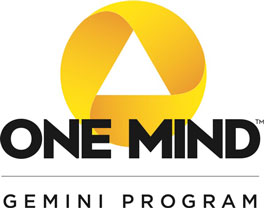 The Geoffrey Beene Foundation is a partner with One Mind, Gemini Program, which is a 3,000 patient study for traumatic brain injury (TBI) and post-traumatic stress disorder (PTSD).
The Geoffrey Beene Foundation is proud to support our Veterans. Since the inception of the Geoffrey Beene Foundation, supporting organizations that provide critical services and support to our Veterans has been a priority for the Foundation.
The Geoffrey Beene Foundation has supported several Veterans' foundations and organizations that raise awareness and enlist the public's aid for the needs of injured service members, particularly Traumatic Brain Injury (TBI) and Post Traumatic Stress Disorders (PTSD). Other programs include investing in Veterans and their spouses and children through educational scholarships and supporting programs which provide military families lodging and comforts of home to enable family members to be close to their injured Veterans at the most stressful times during the recovery (physical health and wellness, economic empowerment, and resource information centers). The Geoffrey Beene Foundation has also supported programs which place specially trained Service Dogs to help empower Veterans with various disabilities including Traumatic Brain Injury and Post Traumatic Stress Disorder to gain independence and mobility.
Peter Chiarelli of One Mind Tedx Tacoma: Accelerating open science and the urgency to act now.
Support
Geoffrey Beene Foundation
In Its Fight
Against Cancer
To Save Lives
Geoffreybeenefoundation.com