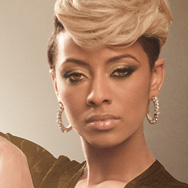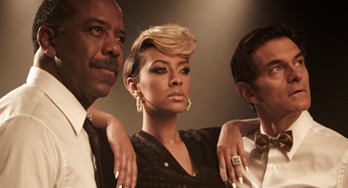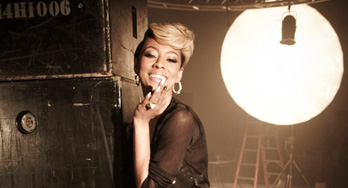 Being a woman, I hope that the impression I leave is that of a go-getter, is that of a don't-take-no-for-an-answer type of woman. You can make it, you don't have to stop at the yield sign. Turn it into a green. Or step to the side, refocus your energy and keep it moving...I'ts not gonna come easy, but you have to fight for what you want.
Keri Hilson
Contrary to the title of her album, "No Boys Allowed," Keri Hilson rocks out with the masterminds of science.
Have you seen that gorgeous model-looking chick that's got Usher sprung in the video for "Love In This Club?" Turns out, she's a recording artist in her own right. Keri Hilson is about to be huge. And she's one of those rare people who deserve to be. For Keri, music was a childhood friend she kept throughout adulthood. "In school, I would get in trouble for singing all the time. I unknowingly hummed every chance I got. It got so bad my friend's nicknamed me 'Keri-okey'". She wears that name proudly on her sleeve, and in credits for every major hit she writes.
Destined for stardom since day one, the Atlanta native's determined spirit first materialized all before she'd turn a teenager. While performing in school plays and winning talent shows all around Atlanta, she taught herself how to write songs at twelve. Impressed with Keri's vocal ability, her piano-turned-voice teacher ushered her into a studio session where she learned the nuances of recording music. "That was when I really knew that I could take music seriously," she says. "But at the time, I didn't know if there was such a job as production or songwriting."
"I come across a lot of people who are opportunists and they're like, 'If it happens, it happens.' I'm not one of those. I'm a go getter." True to her words, by 18 she was arranging songs, cutting vocals and engineering sessions. While on her journey to making a name for herself as one of the strongest songwriters out there, Keri eventually ran into producer Polow da Don working in recording studios all over their hometown Atlanta. One afternoon, he asked her the pivotal question—" 'What producer do you think would get you where you want to be as an artist? Who would musically inspire you the most?' I said, 'Timbaland-hands down!'" Little did she know, Polow had already been talking to the Virginia Beach producer about her potential. Polow called her one morning with the news that Tim wanted to meet her. Keri was elated. "I wasn't freaking out," she recalls of that morning, "I was prepared. While I had taken all this time to hone my craft as a songwriter, I always believed that I would eventually get to be an artist. Everything I experienced, everything I felt growing up, all the work…I was just like, 'Ok. Wow. This must be it. It must be happening.'"
It was definitely happening. As soon as Keri and Timbaland met there was chemistry. "A lot of nights we would just listen to other people's music and critique it. Not for the sake of study but to listen to it and discuss it. We don't agree all the time. Definitely not. But I think that's what happens when you get two strong creative minds in the same room."
Even better things happen when you get three strong, creative people in the same room. September 2008 will see the release of Keri Hilson's first album, "In A Perfect World…" It is being issued as a joint release from Mosley Music Group (Tim's label) and Zone 4 (Polow's label) as an imprint of Interscope Records (Jimmy Iovine's label). The album is about relationships, it's emotive, human, gorgeously and deliberately imperfect. "No human is exempt from the realities of life—heartbreak, love, failure, success—I want my album to convey a sense of reality. That's the standpoint that lent itself to the title. There will always be something you'd change if only you lived 'In A Perfect World…' and I'm no different.
The highly anticipated debut features her indomitable songwriting skills, the genre-obliterating production of Polow da Don and Timbaland, and Keri Hilson's undeniably incredible voice. "I deliver my songs with emotion," she enthuses, "I don't like a lot of effects. It takes away from the emotion. Like the raspyness of my voice in 'Slow Dance' (written with Justin Timberlake) for example. I love the way I sound on that track— straightforward, throwback, and old school. I don't want that feeling taken away. I'm so particular about those emotions. I don't want anyone to walk away from my album just thinking, 'that sounds nice.' Anybody can do that. I'm much more concerned that they walk away thinking, 'that felt great.'"
For her humility, the album is as dizzyingly good as it should be. It's a watershed moment that meets both goals—it sounds and feels great. The songs are unconventional. It's universally appealing in its pop offerings (infectious hooks are plenty) but the arrangements are challenging in how many layers there are to listen to. Heavy synth-laden basslines to the classical guitar in the tensely urgent Polow-produced "Ready to Fall," Keri anchors it all with a pitch-perfect voice that is refreshing in its versatility. From the sweeping cinematic orchestration of Timbaland's "Mic Check" ("I loved harnessing all that aggression in my voice.") to the speedy cascading electro bassline of "Return the Favor." The mutual trust between artist and producers allows them to take bold risks. Keri shouts out all the "fly girls" on her song "Get It Girl". "A 'Get It Girl' is focused on getting everything she wants out of life. She is strong, independent, determined, loves to have fun, always stays fresh – and no matter what, accepts no limitations."
"In A Perfect World…" represents a world where music is music and you can't put it in a box. It's a catalyst for Keri to defy categorization, "I want to be a point of reference" states Hilson. "Hip-hop has become pop; pop is hip-hop. Music is definitely changing. I want to be the crux of that. I want to be a reason, not a result."