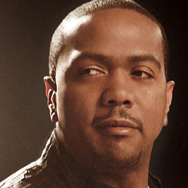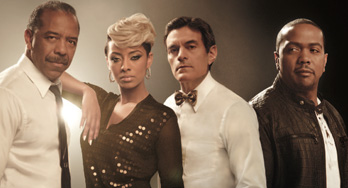 Timbaland
For 10+ years, Timbaland has dominated the pop charts, producing endless hits for some of the biggest names in music. In the studio now, he's crafting material for the next "Shock Value.
Super-producer Timbaland has stamped his indelible imprint on the music scene since the mid-1990s. His production has helped create career-defining hits for artists such as Jodeci, Aaliyah, Ginuwine, Missy Elliott, Destiny's Child, Ludacris, Snoop Dogg and Jay-Z, among many others. Respected beyond the genres of urban and hip hop music, Timbaland, whose musical influences cross cultural lines, has also been sought by diverse superstars whose music similarly knows no boundaries, from pop star Justin Timberlake to avant-singer Bjork. Released April 3, 2007 is his second solo album, Timbaland Presents Shock Value (Blackground/ Interscope/ Mosley Music Group). That disc follows his producing of the majority of the tracks, including the #1 "SexyBack," on Timberlake's #1 charting, multiplatinum FutureSex/ LoveSounds, which followed their work together on Timberlake's previous smash, Justified.
Born Timothy Z. Mosley in Norfolk, Virginia on March 10, 1972, Timbaland, so named by Jodeci member Devante Swing after the Timberland boot, has had many reincarnations–from disc jockey DJ Tiny Tim to half of the hip hop group Timbaland & Magoo; from membership in Devante Swing's Swing Mob crew known as Da Bassment to S.B.I. (Surrounded By Idiots), a production ensemble including Pharrell Williams, to being CEO of his own label, Mosley Music Group.
Ginuwine's hit single "Pony" and debut LP Ginuwine…the Bachelor, produced by Timbaland, introduced a unique rhythmic style that defined the new wave of music in the '90s–R&B and hip hop mixed with an eclectic smorgasbord of effects held together by complex syncopated snare beats. At the same time, his partnership with high school friend Missy Elliott blossomed into a pairing that delivered Aaliyah's double platinum One In A Million and they became one of music's most successful production/songwriting teams. Naturally, Elliott looked to Timbaland to also define her as an artist and their work together, tracks such as "The Rain," propelled Elliott to major stardom and critical acclaim.
Timbaland's trademark sound has spawned numerous imitators—yet he has always remained the acknowledged originator. Not surprisingly given his talents, he started a new label in partnership with Interscope even as he delivered another three albums for Elliott, including 2005's The Cookbook. He also launched Tweet, who debuted withSouthern Hummingbird, and produced Lil' Kim's "The Jump Off." The Game relied on Tim for "Steer" and "Put You On The Game."
Along the way he built an impressive 5,000 square foot studio in Virginia Beach where he does most of his production, and he regularly travels between that location, his Miami residence and the West Coast. In 2006 he founded a new label, again at Interscope, appropriately called Mosely Music Group (MMG). Open to all types of artists, MMG debuted with a bang: Nelly Furtado's "Promiscuous" featuring Timbaland, which hit #1, as did her album, Loose.
Timbaland's genre breaking has changed popular music today, and he takes pride in his success at staying ahead of the curve with his originality and experimentation. Confident and charismatic, his goal is still to blow the listener's mind and make them move to the beat. On the personal side, this artist/producer is an avid bodybuilder committed to a strict diet and training regimen, and as serious about working out as he is about his time in the studio.
"You can accomplish anything you put your mind to if you stay persistent and disciplined," explains the driven and dedicated Timbaland, an innovator of sound who continues to set popular tastes while adventurously expanding his musical palette.