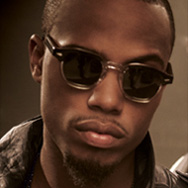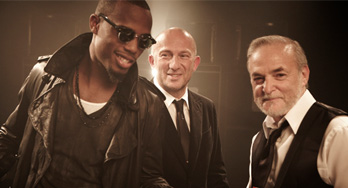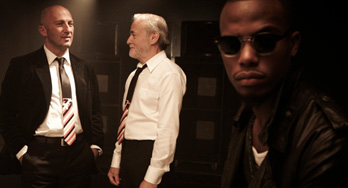 I want anyone inspiring to do anything, whether its music or science or whatever it may be. From the scientific to the artistic world...it takes the same type of creativity and the same type of willpower and determination to accomplish something. Especially with something like science and music, those are very parallel.
B.O.B
B.o.B makes waves with rule-breaking rap.
But gives his props to the docs.
Sometimes it pays to be different. Hailing from Atlanta, Georgia, a city known for its outcasts, B.o.B is truly out of the ordinary. At just 19 years old, the rapper – born Bobby Ray Simmons – has become a breath of fresh air in Atlanta's snap and trap-obsessed scene. Known primarily for his heavy smokers anthem, "Cloud 9," and the frenetic energy of his song "Haterz Everywhere," B.o.B scored a record deal with Atlantic Records while he was still in high school. Now, the teen-aged rap phenomenon is ready to bring his genre-bending style nationwide with his highly anticipated debut, The Adventures of B.o.B.
B.o.B made the decision very early in his young life to pursue a career in hip-hop. He started rapping at the age of 13 after studying classic albums from DMX and Eminem. With the encouragement of his older brother, B.o.B started feverishly writing down anything and everything. "At the time, Joe Budden was poppin' and my brother told me when Joe was 15 he used to fill up notebooks with rhymes," says B.o.B "That it off a light bulb for me and I was likedamn, I needto do more than that. Then from seventh grade up to tenth grade,
I just started filling up notebooks with lyrics. Then it got to the point where I was just writing them in my head."
While still in junior high school, B.o.B formed a group with his cousin Swag, called The Klinic. The two young MCs were able to buy a simple studio set-up that included the beat-making program Fruity Loops. They quickly started crafting their own songs and performing at open mics around Atlanta. Their manager, B Rich, introduced them to a local ATL rapper named Playboy Tre of the Georgia Durt camp, and he taught the young'ns how to use his professional studio.
The Klinic continued to collaborate until their senior year of high school in 2006, when B.o.B's cousin decided to leave home in order to attend college. Faced with a tough decision, B.o.B chose to continue rapping, this time as a solo artist. "I called my manager and was like, 'I think I'm just going to start working at the mall for a little while and get some money so I can really start pursuing music like I want to,'" he remembers. "Him and Playboy Tre came by my house and were like, 'Look man, we can get you a deal within a year, don't give up!'"
In mid-September of '06, just two weeks after going solo, B.o.B performed at Club Crucial, where TJ Chapman, founder of the national DJ conference TJ's DJ's, was in attendance. After hearing the rap rookie perform "Cloud 9," TJ was convinced he was in the presence of a star. "That was the first time I performed 'Cloud 9' and I got a standing ovation," says B.o.B "TJ Chapman was amazed. He linked up with B Rich, who let him hear my music, and TJ wanted to be involved in the team." With the budding MC's demo in hand, TJ, B.o.B and B Rich flew to Miami to meet platinum producer Jim Jonsin. After one listen, Jonsin offered B.o.B a spot on his label. On October 3, 2006, B.o.B signed to Atlantic Records through Jonsin's Rebel Rock. "I'm really focused on painting a picture of myself as a musician and an artist and not just a rapper," says B.o.B "I feel like I'm not just making rap music; I feel like I'm changing music, period."
The gifted showman's debut album, The Adventures of B.o.B, is a fascinating journey into the Atlanta artist's far-reaching imagination. On the track "Not Alone," a song B.o.B describes as an alternative rock chant, he touches on his pain as a child who was unable to fit in with his own peers. The Tombz-produced cut, "Camera," explores the story of a young woman who chooses life as a stripper over a college education.
B.o.B continues to rap to the ladies on "Cyber Heaven," where he claims his lovin' will take them out of this world, while "Haterz Everywhere" featuring Rich Boy, a song that has flooded the South since its release in early 2007, proves his stronghold over the competition. B.o.B's most honest reflection of his artistic intent comes on "Trippin'," where he raps about using his craft as a therapeutic means of solving his feelings of eccentricity. "I feel like I have a really different perspective," he says. "When I grew up it was really hard for me to figure out why I felt that way, like I really felt like I was from another planet. Now, it's the opposite. All of that time I spent developing my talent and really analyzing myself, now I feel like I can express all of that and give all of my energy and love to the world." After producing the majority of his album by himself, and learning to play multiple musical instruments – including the piano, trumpet and French horn – B.o.B is destined to spread his message of creativity and empowerment through his music. "I just want to show people that there are endless possibilities of what you can do," he says. "You don't just have to be a rapper, you don't just have to be a trapper; you can be anything you want to be and whatever you do, just love it and it will show."