Geoffrey Beene Docs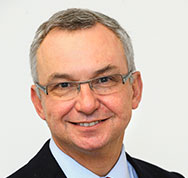 José Baselga, MD, PhD
Specialty:

Human Oncology & Pathogenesis Program; Memorial Hospital Research Laboratories; Medicine

Institution:

Memorial Hospital Research Laboratories, Memorial Sloan-Kettering Cancer Center

Other Title:

Physician-in-Chief, Memorial Hospital

Notes:

My research group focuses on identifying mechanisms that limit the sensitivity to targeted therapy in solid tumors, in particular to PI3K/Akt/mTOR inhibitors and anti-HER2 agents. By investigating how cancer cells escape the therapeutic pressure of these drugs, we can better identify patients who are more likely to respond to a specific therapy and increase effectiveness of such therapies by testing novel combinations. Concomitantly, we analyze biopsies obtained from patients who were treated with the same compounds as the ones we study in the laboratory. This is necessary in order to validate our preclinical findings and to uncover new (and targetable) possible genomic aberrations acquired by cancer cells during therapeutic stress and selection. Our final aim is to provide insights into designing more-effective clinical trials that test novel therapeutic combinations in precise subsets of cancer patient populations.