Geoffrey Beene Docs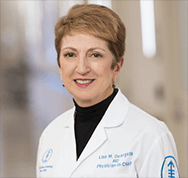 Lisa M. DeAngelis, MD
Specialty:

Neuro-Oncology

Institution:

Columbia-Presbyterian Medical Center; Memorial Sloan Kettering Cancer Center; New York Hospital

Other Title:

Physician-in-Chief and Chief Medical Officer; Scott M. and Lisa G. Stuart Chair

Notes:

I am a neuro-oncologist with more than 30 years of experience in caring for people with brain tumors and neurologic complications due to cancer. I am also Physician-in-Chief and Chief Medical Officer at Memorial Sloan Kettering, where I oversee all clinical, research, and medical education efforts for Memorial Hospital.

When neuro-oncology was a budding field, I came to MSK to do my fellowship under Jerome Posner, the founding Chair of Neurology. I have been honored to call MSK my home since and assumed the role of Chair in 1997. Over the years, our department has grown substantially into what is today one of the most robust neuro-oncology programs in the world. I co-founded MSK's Brain Tumor Center, where experts from across MSK work to bring new discoveries from the lab to our patients as quickly as possible. My own research is focused on primary brain tumors and the neurological complications of cancer and its treatment, including cognitive impairment and strokes. I helped develop the current regimen to treat primary central nervous system (CNS) lymphoma, and I have led national clinical trials that investigate new brain tumor therapies.

Brain tumors are some of the most challenging forms of cancer. However, new developments in understanding and treating brain cancer are improving people's health and quality of life where options previously were limited. I work as part of a team of nurses, doctors, and other specialists who care for people with incredible dedication and compassion.

People who come to MSK — and their families and loved ones — should know that we will provide the very best cancer care possible. Every person at MSK, in any role, is devoted to helping restore our patients' health and well-being.