Geoffrey Beene Docs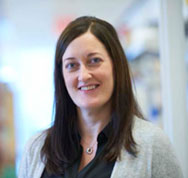 Johanna Joyce, Ph.D.
Specialty:

Cancer

Institution:

Junior Faculty Chair, Geoffrey Beene Cancer Research Center, Memorial Sloan-Kettering Cancer Center

Other Title:

Associate Member int he Cancer Biology Program at MSKCC

Notes:

Johanna Joyce is an Associate Member in the Cancer Biology Program at Memorial Sloan Kettering Cancer Center, New York, & an Associate Professor in Cornell University Graduate School of Medical Sciences.  She received her Ph.D. in Biology from the University of Cambridge, England in 1999, & did her postdoctoral training at UCSF.  Dr. Joyce has received career development awards from the Sidney Kimmel Foundation, the Rita Allen Foundation and the V Foundation for Cancer Research, and was named to a Geoffrey Beene Junior Faculty Chair at MSKCC in 2007.  Her group's research interests are to understand the mechanisms by which stromal cells in the tumor microenvironment regulate cancer development, metastasis, & response to therapy, with a particular focus on the roles of innate immune cells & proteases.