Geoffrey Beene Docs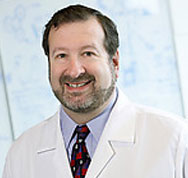 David Scheinberg, M.D., PhD.
Specialty:

Cancer

Institution:

Chair, Molecular Pharmacology and Chemistry Program, Memorial Sloan-Kettering Cancer Center

Other Title:

Executive Committee, Geoffrey Beene Cancer Research Center, Memorial Sloan-Kettering Cancer Center

Notes:

The overall goals of this laboratory are to develop novel targeted immunotherapies based on effectors of the immune system and to understand their mechanisms of action as well as the mechanisms of resistance to them. This includes passive agents (antibodies, targeted nano-devices, and ligands) and active agents (vaccines). An important goal is to take these new therapies into human clinical trials for testing. We have developed alpha particle therapies, targeted beta emitters, oncogene product peptide vaccines, and are presently developing prototype targeted nano-machines. Recently, our lab developed a molecular nanogenerator that releases alpha particles inside cancer cells. This is now being tested in humans.