Geoffrey Beene Docs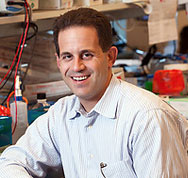 Ross Levine, M.D.
Specialty:

Cancer

Institution:

Junior Faculty Chair, Geoffrey Beene Cancer Research Center, Memorial Sloan-Kettering Cancer Center

Other Title:

Assistant Member, Human Oncology and Pathogenesis Program

Notes:

I am a physician-scientist with a specific interest in the genetics and therapy of myeloid malignancies, including the myeloproliferative neoplasms polycythemia vera, essential thrombocytosis, and primary myelofibrosis.

The focus of the Levine lab is to improve our understanding of the genetic basis for activation of signal transduction pathways in myeloid malignancies, and to use this knowledge to improve therapies for patients with these disorders. In particular, current research is focused on elucidating the role of oncogenic disease alleles in the pathogenesis of BCR-ABL negative myeloproliferative disorders (MPD), specifically polcythemia vera (PV), essential thrombocytosis (ET), and primary myelofibrosis (MF), and on developing molecularly targeted therapies for these disorders. While in the laboratory of Gary Gilliland at Harvard Medical School, Dr. Levine, along with three other groups, identified JAK2 mutations in patients with polycythemia vera, essential thrombocytosis, and myelofibrosis. We subsequently identified gain of function mutations in the thrombopoietin receptor (MPLW515L/K) in patients with JAK2V617F negative ET and PMF, and in collaboration with Linda Scott and Tony Green identified mutations in exon 12 of JAK2 in JAK2V617F-negative PV. Our current efforts are focused on the following areas:

Identification of somatic mutations which activate signal transduction in JAK2V617F negative MPD, using candidate gene, genome-wide, and functional approaches.

Investigation of the role of different signaling pathways in hematopoietic transformation by activating mutations in JAK2 and MPL.

Characterization of inhibitors of JAK2 kinase activity with a potential role in the treatment of PV, ET, and PMF using in vitro and in vivo assays, and elucidation of the mechanisms of resistance to JAK2 inhibitors using in vitro systems.

Development of novel genetic screens to identify additional oncogenic alleles in hematopoietic malignancies with pathogenetic and therapeutic significance.