Geoffrey Beene Docs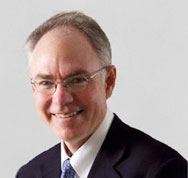 Charles L. Sawyers, M.D.
Specialty:

Cancer

Institution:

Chair, Human Oncology & Pathogenesis Program, Memorial Sloan-Kettering Cancer Center

Other Title:

Dr. Sawyers is past President of the American Society of Clinical Investigation, serves on the National Cancer Institute's Board of Scientific Councilors, and is a Member of the Institute of Medicine, National Academy of Sciences. He has received numerous honors and awards, including the Richard & Hinda Rosenthal Foundation Award (American Association of Cancer Research), the David A. Karnofsky Award (American Society of Clinical Oncology), the Dorothy P. Landon-AACR Prize for Translational Cancer Research, and in 2009, the Lasker~DeBakey Clinical Medical Research Award.

Notes:

Dr. Sawyers is investigating the signaling pathways that drive the growth of cancer cells, with an eye toward designing new treatment options for patients with chronic myeloid leukemia, prostate cancer, and glioblastoma. Our laboratory is focused on characterizing signal transduction pathway abnormalities in various cancers with an eye toward translational implications. One example is chronic myeloid leukemia (CML) which is caused by the BCR-ABL fusion gene, expressed as a consequence of the Philadelphia chromosome translocation. In collaboration with Brian Druker at Oregon Health Sciences University, we developed the ABL kinase inhibitor imatinib/Gleevec as primary therapy for patients with CML. Shortly thereafter, my group discovered that resistance to imatinib is caused by BCR-ABL kinase domain mutations. We worked closely with John Kuriyan's group to examine the structural consequences of these mutations on the ABL kinase domain and postulated that second generation ABL kinase inhibitors that bind to ABL differently from imatinib might retain activity against imatinib-resistant mutants. In collaboration with scientists at Bristol Myers Squibb, we showed that the dual Src/Abl inhibitor dasatinib has such properties in preclinical models, then co-led the clinical development of dasatinib as treatment for imatinib-resistant CML. Subsequently, we found that dasatinib resistance occurs through additional, novel BCR-ABL mutations, some of which remain sensitive to imatinib, making a strong case for combined ABL kinase inhibitor treatment to prevent the emergence of resistant subclones.

A second project in my group is explores the molecular basis of prostate cancer and mechanisms of resistance to hormone therapy. This work is currently focused on the role of the androgen receptor in disease progression, even when tumors progress to the hormonerefractory stage. After demonstrating that higher levels of androgen receptor are necessary and sufficient to confer resistance to current antiandrogens, we collaborated with UCLA chemist Michael Jung to discover a small molecule inhibitor that targets the increased levels of androgen receptor found in hormone refractory disease by a novel mechanism. A phase I-II trial of this compound (MDV3100), now underway at MSKCC and other sites, has shown impressive clinical responses in men with castrate-resistant prostate cancer, including those who have progressed on chemotherapy. MDV3100 will undergo phase III clinical testing beginning in 2009. Current projects are deciphering mechanisms of resistance to MDV3100, dissecting AR function using RNA interference screens and examining crosstalk between AR and other common molecular lesions in human prostate cancer such as PTEN loss and TMPRSS2-ERG gene fusions.